We are delighted that you are considering having your ceremony and/or reception at our church.
We recognize that no two celebrations are ever the same; we strive to assist you in creating a memorable ceremony that you will cherish throughout your lifetime together. Our Christian tradition teaches that when two people wish to publicly declare their love, this declaration becomes a covenant that you make with God and with one another. Therefore, we consider your ceremony in our sanctuary to be an occasion of worship.
To help you determine if you wish to have your celebration at Altadena Community Church, we offer the following information and policies:
Contact our office manager by calling the church office to request your date on the church master calendar. Once you turn in a $250 refundable damage deposit, the date of your ceremony and rehearsal will be reserved for you. The deposit will be returned after it is determined that there is no damage to the facilities.
Once your date is reserved, our wedding coordinator will contact you to set up an appointment. They will coordinate all of your needs at the church and will guide you in what is appropriate for a service in our sanctuary.
Our pastor performs all ceremonies celebrated in our church. If you wish to invite another pastor to celebrate your ceremony, approval by our pastor is required. Our pastor will go over different types of services with you and will offer wedding counseling, if you so choose.
The couple will meet with our director of music to choose music for the ceremony. They can arrange soloists or other special music needs, as well; this would be at an additional expense. If you wish to have someone else provide the music, then this person will have access only to our grand piano. We allow only our director of music to play our pipe organ.
All floral arrangements and other decorations must be cleared with our wedding coordinator. We do not allow bird seed or rice to be thrown at the couple, as this creates a hazard for all guests.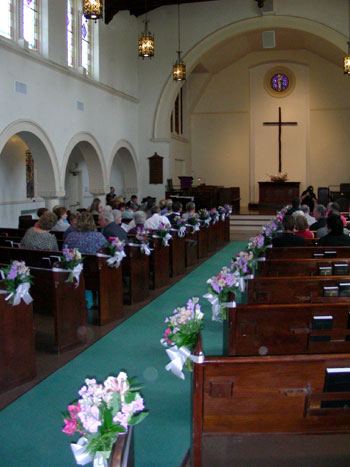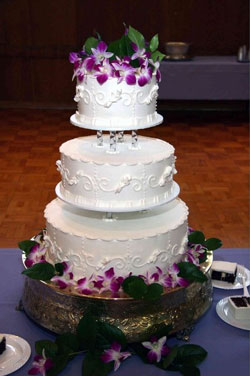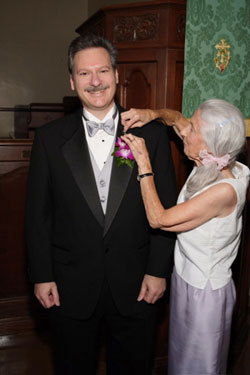 The Sanctuary comfortably seats 200+ people on the main level. We have candles that can go on the altar, a kneeling bench and a unity candle if you wish to use any of these.
The Chapel is a less formal setting for a small ceremony.
Dressing Rooms: We can provide several spaces where members of the wedding party can change if there is this need.
The Fellowship Hall, located on the Upper Level of Heicher Hall, is available for receptions. We do not allow alcoholic beverages except for a champagne toast. Tables and chairs would need to be rented.
All the buildings on our campus have central heating and air conditioning.
Wedding Fees
The fee covers the use of the facilities, all staff involved, and cleaning services following the wedding.
$250+
Refundable Damage Deposit
Your deposit guarantees your date and is returned to you following the wedding, provided that no damage is done to the facility. The deposit will be returned by mail.
$1,000+
Fee for Wedding Service in the Sanctuary
$300+
Fee for Wedding Service in the Chapel
$500+
Fee for Wedding Reception in Heicher Hall fellowship hall (this only includes the use of the space; you must rent tables & chairs)