"I grew up in a church where we were told what we had to believe. Here we are able to work out our own Christian beliefs."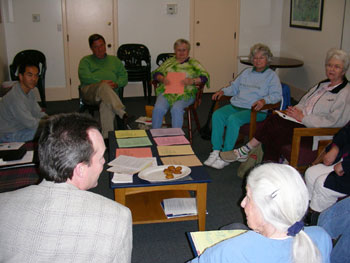 After the service, stop by the coffee hour "under the arches" and grab a cup of coffee to bring to Founders Room, where recent ongoing renovations are turning this space into a classroom and meeting room. There, thanks to Zoom and a big-screen tv, members and friends will be able to meet both in person and from parts all over, for an after-church sermon talk-back.
This is for anyone who would like to join us. We will delve into many topics, from the Bible to current issues. Gifted people within the congregation, as well as occasional guest speakers, will share from a breadth of experience and knowledge. Each session is structured to stand alone, so that you can attend just one or a few sessions and still enjoy the experience.
There are many ways of seeing. In ACC Bible studies, we try to see through the Scriptures-past our preconceptions, into the lives and understandings of the original writers and readers. Once we locate some original meanings, we seek to see through this lens back into our own lives. What do we hear in these often beautiful, almost always amazing texts? What do we think? What speaks to our hearts? Do we hear God's voice?
Why do we meet as a group? Each one of us is more likely to learn with support. We see a lot more when we work together. We gather in Christ's name. We seek to catch the Spirit in each other's responses.
ACC Bible study meets every Tuesday at 5:30pm by Zoom. Non-ACC members are welcome, and the requirement for the group is a commitment to do the reading in advance and to participate in ways that are respectful of others.
For further information and Zoom link, contact us HERE.
Nourish your body at the vegetarian potluck and your soul with the thought-provoking presentations. A fun and informal gathering of friends of different faiths speak on a common spiritual topic. Altadena Congregations Together Serving, which includes the Baha'i, Baptist, Christian Science, Episcopal, Jewish, Islamic, Lutheran, Presbyterian, and United Church of Christ faiths, sponsors this series on four consecutive Thursdays during the summer at Altadena and Pasadena houses of worship.